Jasmine, the hotel's popular Chinese restaurant, offers premium and authentic Chinese dishes. The interior is a showcase for Chinese Art Deco, while the menu features the culinary arts of China, including Cantonese dim sum and barbecue delicacies. The venue currently offers its all-you-can-have dim sum for lunch and dinner service on select days of the week.
In true Cantonese tradition, Jasmine is known for sourcing only the finest and freshest produce. Naturally, private dining rooms are available.

HOURS
Jasmine is open for dine-in from Mondays to Sundays for lunch from 11:00 am to 03:00 pm and dinner from 06:00 pm to 09:30 pm. The restaurant's renowned all-you-can-eat dim sum offer is available daily except for Friday and Saturday dinner. Takeout, pick-up and third-party delivery service via Grab, Food Panda and Pickaroo continue to be available daily from 11:00 a.m. to 08:30 p.m.
LOCATION
Level 2

PROMOTION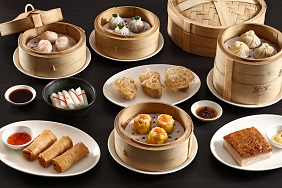 Have your fill of your favorite dim sum daily with Jasmine's all-you-can-eat offer.